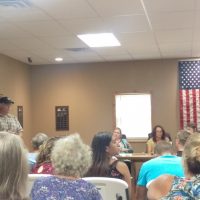 A town hall meeting in Fairland Tuesday night to discuss a proposed ethanol plant in Shelby County was, at times, contentious, and filled with statistics and research by area residents.  It also revisited an old story about the growth of Shelbyville and the impact, real and perceived, on the community of Fairland.
Doug Sutherland lives along 300 North, about a mile from the site near Hession Drive.

Area resident Lynne Howley feels local elected officials should have been more open ahead of the previous Shelbyville Board of Zoning Appeals and Plan Commission meetings that first formally introduced Poet's ethanol plan to residents.
Brett Yerdon, commercial developer for Poet, flew in from Sioux Falls, South Dakota for the meeting.  He addressed several concerns voiced by residents including air and water quality, noise, traffic, dangers of explosion to smell.

Yerdon says the meeting is fairly commonplace.
Howley says she took some things from the meeting positively but still has concerns regarding the building of an ethanol plant nearby.
Jeremy Miller farms with his family in the area and serves on the Fairland Town Council.  He's intrigued by what the ethanol plant could mean for the local ag industry.
Many people cited the nearest Poet plant in Alexandria as a centerpoint of their research.  Some even having visited or driven by the facility to check for smell, noise, traffic and more.  Yerdon says they are open to making their Alexandria plant a destination for learning more about Poet.
The next meeting of the Plan Commission on this topic is slated for July 23.