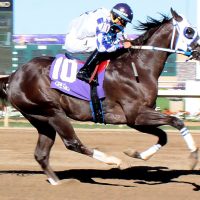 Indiana Grand Racing & Casino will host its third of six all Quarter Horse racing programs Saturday, Aug. 11 featuring trials for the Quarter Horse Racing Association of Indiana (QHRAI) Stallion Service Auction (SSA) Derby and Futurity. Two trials of the QHRAI SSA Derby will be followed by four trials for the QHRAI SSA Futurity on the nine-race card that begins at 6:05 p.m. Both finals are slated for Saturday, Aug. 25.
Heading the 16 entrants for the QHRAI SSA Derby is Rockys Candy Shop in the third race, which is the second trial. The three-year-old son of Fantastic Corona Jr is currently three for three in 2018. He comes into the race off a win in the $131,000 Blue River Derby for owner Lance Finlinson of Greenwood, Ind. Randy Smith, Indiana Grand's current leading Quarter Horse trainer, trains Rockys Candy Shop, who has impressive blood lines.
Rockys Candy Shop's mother, Jesses Candy, is a full sister to Jess Send Candy, who has produced some top contenders. She is the dam of Jess Good Candy, winner of more than $2 million during his career, which was a perfect eight for eight in 2015 and 2016. His wins included the Grade I $3 million All American Futurity in 2015 at Ruidoso Downs. The undefeated son of Good Reason SA now stands at stud at Lazy E Ranch in Oklahoma.
The Finlinson's have long been associated with Indiana Quarter Horse racing. They own a farm outside of Martinsville, Ind. and Sandi Finlinson sponsored the first Bradford Stakes in Indiana in 1999 through her company, Fincorp Logoware. Sandi currently serves as a real estate broker and owner of LandHawk Real Estate in Martinsville. Her son, Lance, a graduate of Roncalli High School, currently serves on the QHRAI board as Industry Relations.
Lance Finlinson's Rockys Candy Shop will be team up once again with Indiana Grand's leading Quarter Horse jockey Jose Beltran for the QHRAI SSA Derby trials as the heavy favorite at odds of 2-5. They begin from post eight in the eight-horse lineup running 400 yards.
The first trial of the QHRAI SSA Derby trial, set as race two, will feature another filly that has been impressive this year in Twisted Lil Secret. Owned by Teresa and Mark Myers and trained by Randy Haffner, the three-year-old daughter of No Secrets Here has two wins in four starts for 2018. She begins her trial from post three in the eight-horse lineup at odds of 8-5 with Rodney Prescott aboard.
Smith has several top contenders in the QHRAI SSA Futurity trials, including the homebred Daddys Moe in the second of four trials in race six. The Carters Cartel gelding, owned and bred by Rose Bode, has two wins and one second place finish in three outings for 2018 and comes into the race off an impressive win in the $130,000 Jaguar Rocket Stakes in mid June. Daddys Moe begins from post four as the race favorite at odds of 7-5 with Beltran aboard.
Trainer Ricardo Martinez will also look to add to his already impressive season at Indiana Grand with the return of Pritty in the third of four trials. After winning her trial by open lengths, the chestnut daughter of Coronado Cartel was bumped hard in her last start, the $82,000 Heartland Futurity and closed late to finish fourth for owner Miguel Lechuga. She has been tagged as the favorite of her trial at odds of 3-5 from post five in the nine-horse third trial. Yordanis Amaro will ride for Martinez, who has won 13 of 24 starts this season at Indiana Grand.
The 16th season of Thoroughbred and Quarter Horse racing continues through Wednesday, Nov. 7. Racing is conducted Tuesday, Wednesday and Friday at 2:05 p.m. EST with Saturday racing beginning at 6:05 p.m. EST. Two special Thursday racing dates will be held July 19 and Sept. 6 with a 2:05 p.m. EST post time.