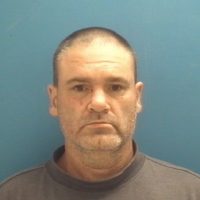 An arrest shortly after a reported rape and battery in Bartholomew County.
Just after 8:00 am Monday Bartholomew County Sheriff's deputies responded to a mobile home park in Elizabethtown in reference to a battery and rape.  A female told deputies that a man had broken into her home, raped and battered her.  The Bartholomew County Sheriff's Department says the female identified her assailant.
At 9:08 am, Sheriff's Captain Dave Steinkoenig and Sergeant Jim Stevens located the suspect.  Teddy Albert Allman, 46, of Elizabethtown, was arrested on preliminary charges of:
Rape – Armed with a Deadly Weapon
Domestic Battery – Serious Injury
Intimidation/Deadly Weapon
Criminal Confinement – Armed with a Deadly Weapon
Invasion of Privacy
Allman remains in the Bartholomew County Jail in lieu of $260,000 bond.
Allman is a registered sex offender listed on the registry as a sexually violent predator since November 28, 2016.