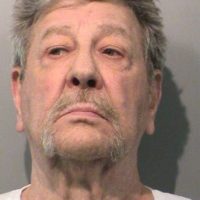 A Shelbyville man was hospitalized and a Greenwood man arrested after a fight over a Bruno Mars song led to a shot fired.
Larry Tillison, of Shelbyville, sustained a facial cut and was treated at the hospital.  He told the Johnson County Sheriff's Department that an argument broke out over whether the song they were listening to on the radio was Bruno Mars.
Tillison says they were at the home of Roger Washburn, 71, of Greenwood.  Tillison says Washburn hit him in the face with a .38 revolver.  The gun went off followed by Washburn firing another shot.
Washburn was arrested on battery and criminal recklessness charges.