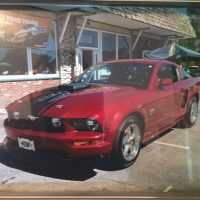 On Saturday the Winchester Police Department requested the Indiana State Police to conduct a death investigation in their city, after Winchester officers went to a residence for a welfare check and discovered a deceased person.
The cause of death and identity of the deceased cannot be determined until an autopsy is conducted. Indiana State Police investigators are requesting the public's help in locating a car that is missing from the residence.
The car is a red 2006 Ford Mustang GT with black stripes up the hood and chrome wheels.  There is a black "scoop" sticking up in the middle of the hood and chrome "pins" near the front of the hood. The car has Indiana plate # RSP657
If anyone should see this car, investigators request you call the Pendleton District at 765-778-2121, or call 911 and give officers the location of the vehicle. Investigators are requesting you do not approach the vehicle.
This is all the information available for release at this time, pending autopsy.