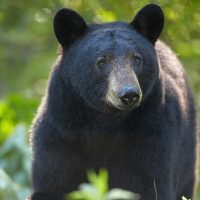 A black bear was hit by a motor vehicle on Interstate 64 near mile marker 121 in the New Albany area at 8 p.m. Sunday.
The injured bear wandered into heavy brush after the accident. DNR wildlife biologists confirmed that the animal was a bear on Monday afternoon, based in information gathered by Indiana Conservation Officers.
"It's unfortunate and unusual for a bear to be hit on an Indiana roadway," said Brad Westrich, DNR mammalogist, "but bear sightings are nothing to be alarmed about. As bear populations expand in neighboring states, it's only natural that they become more common here."

Black bears are rarely aggressive toward humans.

If you see a black bear:
— Enjoy it from a distance.
— Never attempt to feed or attract bears.
— Do not climb a tree.
— Advertise your presence by shouting and waving your arms and backing slowly away.
— Report bear sightings to the Indiana Division of Fish & Wildlife at 812-334-1137, through email at dfw@dnr.IN.gov, or wildlife.IN.gov/8497.htm.
More information on black bears is at wildlife.IN.gov/8500.htm.
Officers with the New Albany Police Department investigated the vehicle accident.