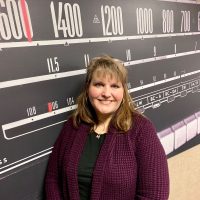 As the snow flakes floated through the sky at GIANT FM REAL RADIO, Hancock County Tourism and Visitor Center, Executive Director, Bridgette Jones shared with GIANT FM listeners the details about SANTA's scheduled appearance in Hancock County this Saturday, Dec 1st!
Greenfield, Fortville, Cumberland and Shirley ALL have  Holiday festivities planned!
Click on the link below to listen to Bridgette Jones' "Trip With Penny Lane" on GIANT FM.
Greenfield

Christmas Parade and Festival

– LET'S LIGHT UP CHRISTMAS IN GREENFIELD
Since 2006, Celebrate Winter and the Christmas Season at the Christmas Lights Parade and Celebration in Greenfield, Indiana!  Musical Variety Show at the H.J. Ricks Theater; visit Santa in his house downtown! Enjoy hot chocolate and hot apple cider on the Courthouse Plaza. The parade will commence rain, snow, or shine, but if at any time leading up to or on parade day the weather and street conditions are deemed unsafe, the parade will be canceled.
Additional Features:
Commercial Vendors, Entertainment Children's, Entertainment Free, Food, Music
Hours:
Parade will begin PROMPTLY at 5:45p.m. on Saturday
The Sugar Creek Elementary School gymnasium will be full of vendors during this Dec 1st, day-long event held in conjunction with the New Pal Christmas Walk (9am-3pm).
Santa Shop will be open for the children to shop independently for special holiday surprises while adults have a chance to browse for the holidays at the same time. Santa's Snack Shack will be open too.
Set your planner for the next two weekends!
The Jane Ross Reeves Octagon House is sponsoring their 17th Annual Christmas Tree Walk the next two weekends.
The Walking Tour is free. They will be serving meals at $10 each. Each meal is complete with dessert and drink.

Friday, November 30th & Saturday, December 1st 4-8pm Meal is Chicken Noodles with sides
Friday, December 7th & Saturday, December 8th 4-8pm
Meal is Soup & Sandwich
If you have never toured it is an amazing historically decorated home. If you have been there before, check in. They have added and redone several areas of the home and ground.
The Weihnachtsmarkt (vie-noks-mart) is an annual fun filled event for families that celebrate the holidays and Cumberland's German heritage.  On the first Saturday of December, this event provides food and family oriented entertainment.  Visit with Santa, sip some hot cocoa or cider, take a carriage ride around Old Town Cumberland, the Town Christmas Tree Lighting.
The annual Cumberland Weihnachtsmarkt will take place on Dec. 1st, 2018 starting at 11:00 am to 10:00 pm.
Flying Toaster are back again this year, taking the stage at 7pm. But prior to that come check the expanded vendor tent with 30+ vendors this year from 11am to 6pm. The kids tent hours are 11-5 with the addition of reindeer games on US 40!! Santa will be there all day in St. Nicolas Haus! They will have live reindeer.  Karma Kitchen, Our Restaurant,  will be there dishing up the grub! Black Acre, Flat 12 and Brandywine Creek Winery will be there pouring the brews and wine. Vogt Farms will be there with their horse drawn carriage giving rides thru town.