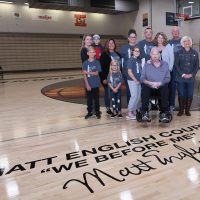 The following message was posted on the Beech Grove school's Facebook page about the passing of Matt English:
Beech Grove City Schools is beyond sad to share that Matt English, our beloved high school Athletic Director and Boys Head Basketball Coach, has succumbed to brain cancer, which he has bravely fought for many years. Matt passed away early this morning.
Matt has been a part of Beech Grove City Schools since 2008, when he started his career as a Hornet as a classroom teacher at Beech Grove High School. In 2012, he was named the high school's athletic director.  In September, the Beech Grove City School Board voted to name the high school basketball court in Matt's honor.
Matt's "We Before Me" mantra resonated in everything he did – as a coach, teacher, mentor, husband, father, son, colleague, and friend. He bravely stood tall throughout his illness and showed up for his "boys" and other Beech Grove High School students and staff by always offering kind and encouraging words. Matt's life demonstrated his commitment, love, dedication, and strength to everyone in which he came in contact.
We will miss Matt English in every way at Beech Grove City Schools. We offer our deepest condolences to his wife, Angela, who serves as treasurer at Hornet Park Elementary School, and their daughter, Addison, and his other family members.
Funeral arrangements are pending. We will announce them on our district Facebook page when finalized.
Please remember the English family in your thoughts and prayers during this very difficult time.
Grief support and counseling will be available at the high school today for our students and staff.
"Your life was a blessing, your memory a treasure…you are loved beyond words and missed beyond measure."