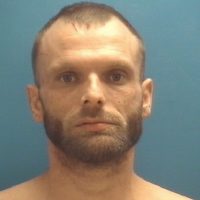 A domestic battery investigation that began at a hospital resulted in the arrest of a St. Paul man.
On December 6, at approximately 5:00 am,  deputies were dispatched to Columbus Regional Hospital due to a 911 call being received advising that a female victim had been stabbed and had jumped from a moving vehicle in the northwestern part of Bartholomew County.
Detective Will Kinman discovered visible injuries to the female victims forehead and hands. The victim also had a noticeable wound on her leg that she informed Detective Kinman was from the stabbing.  The victim also advised that the injuries were caused by her ex-boyfriend, later identified as Joshua Jones, 35, of St. Paul, while she was the passenger in his vehicle.
The victim advised that she had to jump from the moving vehicle and was later picked up by a female that was driving in the area who took her to Columbus Regional Hospital.
Jones was located by Decatur County Sheriff's Office a short time later and taken to Decatur County Hospital to be treated for injuries.  He was later arrested for domestic battery and criminal confinement and transported to Bartholomew County Jail.
Formal charges were filed in Decatur County for Domestic Battery with a deadly weapon and criminal confinement.  Bond is $100,000 or 10%