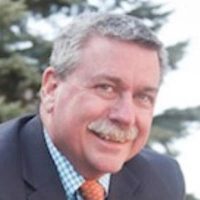 In a touching tribute following Wednesday's council meeting, members of the Greenfield Common Council raised a glass albeit of Powerade and toasted a dear friend who changed the landscape of the city and Hancock County.
The toast was in honor of Skip Kuker, the former director of the Hancock County Development Council, who passed away last week after a five year bout with Stage 4 throat cancer. The 55-year-old is survived by his wife, Ellen, and daughter, Jordan.
Funeral services were held Wednesday.
Prior to a moment of silence during the meeting, Greenfield Mayor Chuck Fewell remembered his friend and his passion for economic development throughout the state and Hancock County. Fewell said Kuker's dedication, service and enthusiasm for all things Greenfield touched everyone and left a legacy for generations to come.
As a result of Kuker's passion, many companies came to Greenfield and Hancock County during his seven years at the helm, including John Morrell Foods and Foamcraft. Kuker was a vital part in projects that added almost 4,000 jobs and $750 million in new investments.
That personality and skill set helped set Hancock County apart, but Fewell said the HCDC will be in good hands with Randy Sorell, who previously served on county council.
Bob Carmony with Runnebohm Construction.
In 2017, Indiana State Senator Mike Crider, R-Greenfield, helped honor Kuker with the state's highest civilian honor, the Sagamore of the Wabash.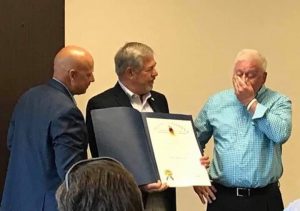 Kuker presented with the Sagamore of the Wabash
In a text to Giant FM, Crider said Kuker was someone made for his post.
"He had a personality and skill set that made him extremely effective and as a consequence the community gained projects which we may have otherwise missed. Those folks come along rarely so he will be missed. We will continue to feel the impact of his work for years to come and that is his legacy," Crider wrote.