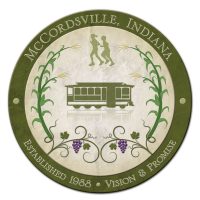 During its first council meeting of the new year officials with the McCordsville Town Council heard presentations on two different proposed developments and had two vastly different opinions on the measures.
Representatives from Pulte Homes pitched an informal presentation on a planned unit development that would be located at 900 North and 700 West, immediately North of Deer Crossing and just southeast of 86th Street and Carroll Road.
The development, dubbed Silverleaf, would feature 55 lots on 25 acres and would feature the company's Landings Series, which is based out of Seattle and geared toward young professionals. The homes would feature six different floor plans ranging in size from 1,870 square feet to 3,004 and in price from $260,000 to $310,000. All homes would be three to four bedrooms and feature two full bathrooms and a half bathroom, along with a two car garage.
McCordsville Town Council President Tom Strayer admitted he liked the proposal, which got the blessing of council to proceed with plans.
Strayer said the development matched what town officials were looking for.
Council vice president Larry Longman agreed.
A proposal by Westport Homes, however, was sent back to the drawing board after Strayer voiced several concerns pertaining to Colonial Hill, a proposed project situated between County Road 700 North and County Road 750 North.
The proposed development would feature 227 single family homes on 100 acres and include walking trails and sidewalks, as well as an 11 acre park. The types of homes would be cottage themed, traditional and estate and range in size of 1,900 square feet to 2,700 square feet and price from $240,000 to $350,000.
Strayer was not alone in his questions, as several council members quizzed a representative from Westport Homes about various issues, including what traffic would look like as the project is slated near an existing school.
Strayer asked Westport Homes to bring back another proposal before any decisions were made on moving ahead.
Longman acknowledged several citizens have concerns as well with council and the development.