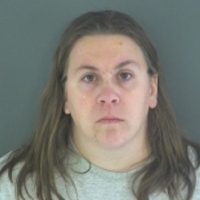 A Shelbyville woman has been charged in a case of child molesting.
The Shelby County Prosecutor has charged Brianne Carson, 30, with two counts of child molesting (Level 1 and Level 4 felonies) and neglect of a dependent (Level 6 felony).
The affidavit for probable cause submitted by Shelbyville Police Detective Deborah Tilford states that she was asked to assist with an investigation of a man, Brian Diana, who had admitted to molesting two children.
That investigation implicated Diana's girlfriend, Carson, in the molesting of one of the children.
The child told investigators that the sexual acts happened several times for more than two years.  The crimes occurred in Shelbyville.
According to the probable cause affidavit Carson admitted to authorities knowledge of Diana's involvement