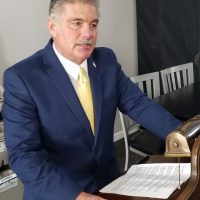 By staff reporter, John Walker

With that City Councilman Brad Ridgeway (R – 4th Ward) made it official – he is running for mayor of Shelbyville in this year's election.  Ridgeway spoke to a crowd of about 50 supporters at the River's Edge Golf Club Saturday afternoon.
He will go up against incumbent Shelbyville Mayor Tom DeBaun, a Democrat, who is seeking a third term.
Ridgeway is now in his first term on the City Council and has often been a dissenting voice on matters before the council.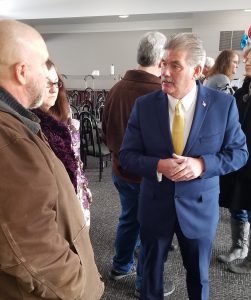 Among the issues he's running on are government transparency and safe neighborhoods, along with better money management
Ridgeway is a local business owner.  He operates Nuesound Hearing Care in Shelbyville, and previously served on the board of the Shelbyville Parks Department.
You can watch a video of his full announcement on the WSVX Facebook page.  A link to the page is on the Giant FM website – giant.fm.
Besides the mayor's race, all seven seats on the Shelbyville Common Council are up for election this year, along with the office of Clerk-Treasurer.
Incumbent Clerk-Treasurer Frank Zerr, a Democrat, is running for re-election.  And Amy Glackman, a Republican, who was just elected county auditor last year, has also filed to run for Clerk-Treasurer of Shelbyville.