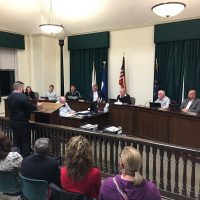 Using public money to help fund private development came up in two issues before the Shelbyville Common Council on Monday evening.
One issue was the request by Major Health Partners asking the city for $1.5 million to help fund a pool at a YMCA the hospital wants to bring to town.  The county has already committed that amount of tax dollars to the project.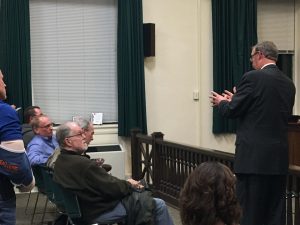 MHP CEO Jack Horner said the YMCA would be part of a larger $18 million health and wellness center the hospital plans to build that would include Shelby Senior Services and other entities.
Blue River Community Foundation has committed $900,000 to the project.  They and several others spoke in favor of the plan.
And as they have previously, owners of local fitness clubs objected to using tax dollars to pay for a YMCA that would compete with their businesses.  Ray Schebler of the Shelby County Athletic Club said other pools have failed.
The other matter before the council pitting public against private investment related to the Methodist Building.  Genesis Property Development, which is associated with the Riverfront Taproom brewpub, wants to refurbish the building which has been vacant for many years.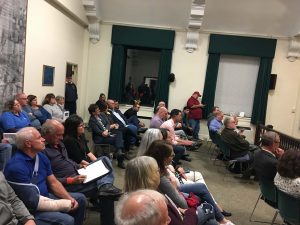 Ron Kelsey, a co-owner of the Taproom, said they've talked to local company executives and think there's a market for upscale housing in the upper level of the Methodist Building with retail on the ground floor.
Genesis Property also has proposed a parking garage next to the Methodist Building to accommodate the residential growth.
However, Chad Christian, a local businessman, said he wanted to buy the Methodist Building years ago, with no public funding.  His proposal went nowhere, Christian said, but the city's given many breaks to the person who did buy it, who's done nothing.
Christian spoke further with GIANT fm News.
Mayor Tom DeBaun addressed the Christian comments.
After the lengthy discussion, the City Council voted to support both the YMCA pool and the Methodist Building proposals.
Councilman Brad Ridgeway (R-4th Ward) voted against the Methodist Building proposal and abstained from the vote on the YMCA.