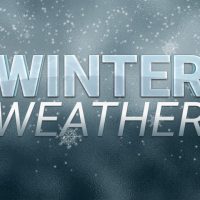 Motorists should expect delays and slick driving conditions late tonight and during tomorrow morning's commute as temperatures across most of the state plunge from near 60 degrees to the low teens over the next few hours.
Heavy rain this week has left roads extremely wet. As temperatures drop drastically tonight, flash freezing of water on roads and bridges may cause black ice and hazardous driving conditions.
Weather warnings include a Flood Warning from the National Weather Service until 11:00 pm Thursday night.  A Flood Warning continues for portions of the following waterways in Indiana… Big Blue River…Big Walnut Creek…Clifty Creek…Driftwood River…East Fork White River…Eel River…Flatrock River…Haw Creek…Mill Creek…Sugar Creek…Tippecanoe River…Wabash River…White River…Wildcat Creek…Youngs Creek.  Lowland flooding has developed in numerous locations throughout central Indiana.  Additional flooding will develop across many rivers and creeks over the next several days. Radar estimates of up to approximately 2 to 5 inches of rain has fallen in central Indiana over the past 48 hours…especially along and south of Interstate 70. This has caused rapid rises on area waterways. Rain is ending across central Indiana.
Also, a Wind Advisory is in effect until 7:00 am Friday.  Wind gusts of 40-45 mph are in the forecast.
INDOT crews are on standby to treat roads with deicing materials, but drivers have not been able to pretreat most locations due to the heavy rain. Once the rain stops, INDOT yellow trucks will be out in force to treat roads.  Give INDOT drivers plenty of room, slow down, and stay behind the trucks.