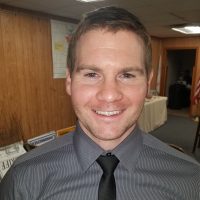 Nathan Michael Willis announced his candidacy for the 2nd Ward City Council on Wednesday, February 4.
Nathan currently serves as the 2nd Ward City Council after he was recently caucused in by the Republican Party to fill the remaining term of David Carmony. Mr. Carmony recently moved to Anderson.
Nathan is a 2008 graduate of Shelbyville High School. While at Shelbyville, Nathan was a member of the swim team and won the Rotary Award his senior year. Additionally, he worked as a lifeguard for the Shelbyville Parks & Recreation Department during his high school and college years.
Nathan earned his degree in respiratory therapy in 2012. He currently works as a Supervisor in the level 1 trauma hospital, Eskenazi (formerly known as Wishard). Additionally, Nathan works at Major Hospital.
Nathan is a former swim coach for the Shelbyville Middle School. He is married to the former Abigail Sempsrote, whom he met while working for the city. She was a volunteer at the animal shelter. They currently reside on Shelby Street and are expecting their first child, a boy, in May.
Nathan is currently working on a plan to counter drug addiction in Shelbyville. Nathan is also a member of the Backyard Shelby group, which is a group of young professionals helping to attract and retain other young professionals and families to Shelbyville.