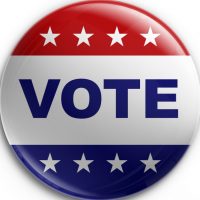 It looks like an all-Republican primary election on May 7; there are no contested races on the Democrat side.
Noon Friday was the deadline to file a declaration of candidacy to be in this year's primary. Barring any last-minute withdrawals, as of 12:01 p.m. Friday the primary ballot looks like this:
In Shelbyville, there's a three-way Republican race for the two At Large seats on the City Council. Phillip Coit Conover is challenging incumbent City Councilmen Brian Asher and Rob Nolley in that race. Nolley is currently on the council representing the 3rd Ward and this year is running at-large;  Asher now holds an at-large seat on the City Council.
Also in Shelbyville, two Republicans are in a race for the office of Clerk-Treasurer, and both are current county government office holders. Amy Glackman, now the County Auditor, is running for the Clerk-Treasurer post. And Scott Asher, currently a member of the Shelby County Council, has also filed to run for Clerk-Treasurer of Shelbyville.  He's the brother of Brian Asher.
Jeff Sponsel, the county election deputy, said residents have until April 8 to register to vote in the primary.
That's in the Shelby County Clerk's office in the old Court House, 407 S. Harrison St.
In Morristown, there's a three-way Republican primary race for two seats on the Town Council.  Tammy Davis is challenging incumbent Morristown council members Dave Benefiel and Bill White.
Candidates have until noon on Monday Feb. 11 to withdraw from the primary.
Looking ahead to the Nov. 5 general election:
Scott Furgeson, former mayor of Shelbyville and City Council member, has filed to run for the 4th Ward seat on the council.  He's a Republican.
Also Carrie Ridgeway, a Democrat, has filed to run for the City Council At Large. She's the wife of current 4th Ward Councilman Brad Ridgeway, a Republican, who's running for mayor of Shelbyville against incumbent Democrat Tom DeBaun, who's seeking a third term.