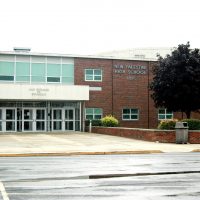 Southern Hancock schools officials sat down with members of the public this week to discuss a potential renovation project for New Palestine High School.
According to Wes Anderson, Community Relations Director, the public meeting was part of a process school officials have been having in recent weeks with teachers and students to listen to what they believe are the needs for the school. Anderson said there were a few common themes that emerged.
One final constant theme centered around better traffic flow in the hallways and cafeteria.
The Skillman Corporation has done a facility study on the high school, which was built in 1954, and included examining roofing, openings, plumbing and HVAC, along with flooring and walls and structures. As a result of the study, several recommendations were made, including demolishing outdated building additions, new additions with enhanced educational opportunities, addressing central cooling and heating and increasing environmental comfort and energy efficiency.
Anderson said the next step is for the two entities to put together a concept of what a project may look like for the district. He did note it will be a very general concept. There is no pricetag associated with the renovations and there is no timeline for when renovations would begin or end, according to Anderson.
In addition, the district has utilized architect firm Barton, For and Vilamaa, who made recommendations centered around security, increasing classroom capacity, improving entrances and improving auditorium access, lobby and restrooms.