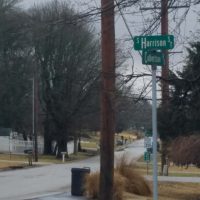 The first phase of Shelbyville's downtown redevelopment is on hold for now.  However, grant money to pay for it and other street work isn't.
On Tuesday morning, the Shelbyville Board of Works was set to open bids for the reconstruction of East Washington Street from the Public Square to the railroad tracks just beyond Noble Street.  The project is the first part of the overall redevelopment of the Public Square and surrounding areas.
But the city decided to give contractors more time to prepare and submit bids.  Mayor Tom DeBaun said following the Board of Works meeting they wanted some additional information about special soils needed to plant trees in urban areas.
The Board of Works did open bids for two other street projects: Reconstruction of West Franklin Street for one block from Elliot to Conrey Streets and the so-called "overlay" project.
Nine companies submitted bids for the overlay which includes sections of eight different streets.  The city engineer's estimate for that work is $652,525.
Six companies submitted bids for the West Franklin Street work.  The engineer's estimate is $183,445.
The Board of Works took the bids under advisement.
City Engineer Matt House noted that Shelbyville has been awarded $1 million from the state's Community Crossings grant program to help pay for the street projects.  He said the grant places Shelbyville in 10th place statewide for the most money received.
In other matters, the Board of Works approved a recommendation by the Parks Department's board of directors to hire Bowen Engineering of Indianapolis to supervise work at Blue River Memorial Park. Parks Director Karen Martin described the work due to start this spring.
Martin said Bowen Engineering is not related to Gary Bowen, owner of Sharps Trophys by Mack, who is president of the parks board of directors.
And during the pre-meeting before the Board of Works regular meeting, the board heard about a flooding problem on Culbertson Road.  Street Commissioner Doug Hunt said runoff from the hill just east of Culbertson is wearing out the road surface due to freezing and thawing.  And Hunt said the runoff may be causing fish kills in the lake at Culbertson and McKay Roads.