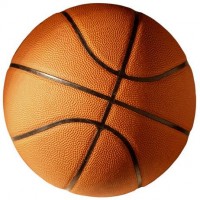 The Morristown Yellow Jackets are the defending 1A state champions and have been ranked in the top 10 this season.  And now Morristown continues its successful follow-up to the 2018 state title with another sectional title.  Morristown defeated Hauser 71-57 to claim the Sectional 60 title Saturday at Southwestern High School.
Logan Laster led the Yellow Jackets with a game-high 37 points.
#8 Morristown will be the highest ranked team at the Martinsville Regional Saturday.  The Yellow Jackets (22-4) will play Greenwood Christian (15-10).  The Cougars won the Indianapolis Lutheran sectional with a 49-48 decision over Providence Cristo Rey.
Morristown defeated Greenwood Christian 71-61 on February 5.
The second semifinal at Martinsville will feature #11 Bloomfield (18-7) vs #12 Indianapolis Metropolitan (16-9).  Metro upset #3 University to win the sectional title.
At Richmond, New Palestine and rival Mt. Vernon squared off for the second straight season in the Sectional 9 title game.  This time, New Palestine advanced with a 61-43 victory over the Marauders.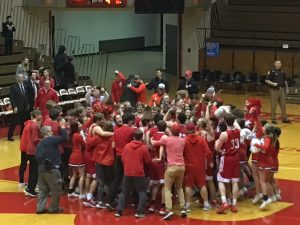 Dylan Romine scored 23 points and made five 3-pt FG in the win.
Dawson Eastes scored 19 for the Dragons.
New Pal's Maximus Gizzi
Keith Rupert led Mt. Vernon with 11.  Peyton Meadors was held to just two points.
The Dragons (17-8) will play Avon (15-9) in the first game of the Southport Regional.  The second semifinal pits #2 Lawrence Central (22-3) against conference rival Ben Davis (17-7).  Lawrence Central won the regular season matchup 72-57 on December 21.
At Columbus, Shelbyville's season ended with a championship game loss to #5 (4A) Bloomington South, 63-48.
Zach Kuhn scored 20 points.  Fellow senior Josh Williams finished with 18.
Head coach Ryan Mack has a rebuilding program with the graduation that's coming.