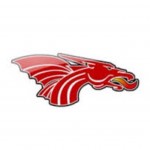 The New Palestine Dragons don't have a chance at any rematches against regular season opponents in the 4A regional at Southport.  In fact, Saturday's regional semifinal will be the first-ever meeting with Avon (15-9).  And, the same can be said if New Palestine advances to play the winner of Ben Davis (17-7) and #2 Lawrence Central (22-3).
New Pal (17-8) is in a boys basketball regional for the first time since 2012 after defeating Greenfield-Central, Connersville and Mt. Vernon to win the Richmond Sectional.
The Dragons are one of two Hoosier Heritage Conference teams still playing.  Top-ranked (3A) Delta (26-0) is competing in the Marion Regional.
Coverage of New Palestine – Avon begins at 9:30 am on 106,3 FM and online at www.realradioonline.com.
Statistical leaders
Scoring
New Palestine – Maximus Gizzi, 15.6 ppg; Matthew True, 15.1
Avon – Jayden Brewer, 15.1; Wendell DeMeyers, 11.7
Rebounding
New Palestine – Dawson Eastes, 6.6
Avon – Jayden Brewer, 5.7
Assists
New Palestine – Maximus Gizzi, 4.4
Avon – J.P. Carroll, 5.3