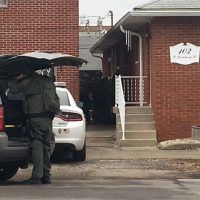 A SWAT standoff Friday ended without injury and a man taken into custody.
On Friday the Shelbyville Police received a call from a receptionist at the Neighborhood Legal Clinic in Indianapolis.  She said the man explained he needed representation for his arrest by the Shelbyville Police Department.  The man stated he hadn't gotten any help from the FBI or CIA.  He also said he had lots of guns and was going to the police department to shoot as many officers as he could and then blow up the building.
Shelbyville Police narrowed possible suspects down to two people, one of which matched the receptionist's description better than the other.  Plus, that man, Lawrence Wright, 43, of 106 West Broadway, had been in contact with the prosecutor's office, officers and judges on Facebook and in person.  The Shelbyville Police Department knew Wright to have a long history of mental illness and were concerned that his actions were escalating with verbal confrontations.
Police responded to 106 West Broadway when another caller told dispatch that she believed she heard a gunshot from Wright's apartment.
Officers arrived at the apartments and reported hearing a man yelling and banging things inside.  Police say Wright responded to their calls but they couldn't understand everything he was saying.  At one point, Wright invited officers in to check on him but with concerns over Wright's condition and the possibility of weapons involved Shelbyville Police waited for more personnel who helped to evacuate the apartments.  Wright later yelled at officers that he had a gun and they should stay back.
SWAT was also called to the scene.
Police were awarded a search warrant and the SWAT unit executed it at Apartment 1.  Shelbyville Police report Wright resisted law enforcement but minimal force was needed in securing him.  A large knife Wright possessed during the incident was taken by police.  There were no firearms, spent casings or magazines located in the apartment.
After being taken to the MHP Medical Center Wright was transported to the Community North Hospital for evaluation and treatment.
Wright faces charges of intimidation and resisting law enforcement.