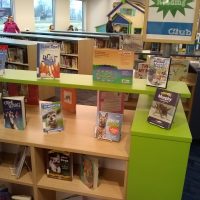 Each time Dave Gray drives past the Sugar Creek Branch of the Hancock County Public Library, he hopes other residents share the same thought he has -- I cannot wait to see what's inside there.
What is inside is a new, spacious 15,000 square foot facility nestled on just over four acres that opened earlier this month.
"Each time I drive by, I want to go in and see what it's all about," said Gray, who is the library director.
The new facility replaces a former facility where staff and patrons had outgrown it. The library is located at 5731 West U.S. 52 in New Palestine.
Gray said the new facility was made possible by a very generous donation of a husband and wife from the community shortly after the land was purchased in 2016.
The new facility features opportunities for patrons to grab a book, newspaper or magazine and get away in a private area or utilize counter tops and electrical outlets for devices.
In addition to the youth area, Gray said a major draw is the clubhouse in the youth area, which allows children to use their imagination.
And, there's plenty for adult patrons, as the library boasts plenty of room and will feature a historical timeline of the library, which began as a volunteer library.
Gray said a dedication ceremony is slated for this spring.