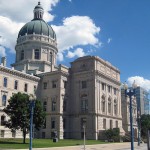 A number of local supporters will be in attendance Wednesday afternoon for an Indiana house committee hearing on gambling.
The House Committee on Public Policy will discuss the proposed gambling legislation and hear from stakeholders and the public.  If passed, the bill would allow live dealers at Indiana Grand Racing & Casino by July 1.
Shelbyville Mayor Tom DeBaun, Northwestern Consolidated Schools Superintendent and president of the Shelby County Chamber of Commerce Chris Hoke, the chamber's executive director Julie Metz and board members Nathan Runnebohm and Scott Shepherd along with Ray Wetnight are expected to attend.  Representatives for Caesers and Indiana Grand Racing & Casino are also going.
Shelbyville Mayor Tom DeBaun is hoping the public adds its support for the legislation by contacting lawmakers.
Shelby County Commissioner Chris Ross is planning to be at the hearing.
Ben Smaltz (R - District 52) chairs the committee.