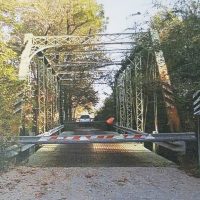 After some two decades, the story of Bridge 13 is in the final chapter.
On Monday, the Shelby County Commissioners approved two change orders totaling $38,715 for stone rip wrap and other items for Bridge 13's replacement.
Located on County Road 875 West, just south of 700 North in the far northwestern part of the county, the bridge spans Buck Creek. The crossing has been closed to traffic since 2011.
But the Bridge 13 story began in the 1990s, according to Commissioner Chris Ross (R-North District), when load-limit restrictions were put on.
Several years later, the commissioners had plans to replace Bridge 13, along with three others, before the state intervened, said Commissioner Kevin Nigh (R-Center District).
"The bridge at Boggstown, that we got closed, the one just south of 1200 North on 600 West, and Bridge 13, and the bridge on 400 North was all planned in a group, to replace the one at Boggstown and everything else, and all four of 'em were gonna be done, and then that's when SHIPPO come in and changed the agreements," said Nigh.
SHIPPO is the state's Office of Historic Preservation, a part of the Indiana Department of Natural Resources.
Built in 1889, Bridge 13 is a rare example of Pratt steel truss-through construction. Because of its historic nature, the state required Shelby County to preserve it.  So Bridge 13 was disassembled, cleaned up, stored, and now awaits reassembly in Shelbyville's Blue River Memorial Park where it will become part of the city's bike-pedestrian trail.
Weather permitting, reconstruction of Bridge 13 could begin soon, the commissioners said.
Meanwhile, the replacement bridge is set to open as soon as paving can be done, along with installing guard rails and the rip wrap, and seeding the ground.