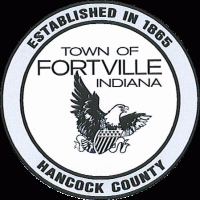 Republican voters in Fortville District 2 will see an incumbent's name along with that of a newcomer this primary election.  Incumbent Tim Hexamer is being challenged by Becky Davis.
Hexamer, who moved to Fortville in 2014, has served on council for four years.
"Watching the town grow and hear such positive remarks about the community is a good feeling, but it also makes me want to be more involved," he said.
He added serving on council is a "special experience" he will always cherish.
"I feel I have more to offer in serving the community and want to continue. Fortville is going to keep growing, and I have the knowledge and experience to make sure it is responsibly managed," Hexamer said.
Davis said her desire to run is the result of her caring.
"I decided to run because I care about Fortville and the residents. It gives me the opportunity to stay involved in decisions that effect them. I've always been interested in politics and my involvement was limited when I worked in the town utility office," Davis said.
Both candidates said the town's rapid growth is a challenge facing Fortville.
Davis also mentioned parking, traffic and infrastructure as concerns.
Hexamer said in order to manage growth, one has to have a plan, something, he says, Fortville officials created years ago.
"It all started with a comprehensive plan that has given a template for how the community wants to see growth and development. Creating PUD's for housing development and commercial building designs and standards. Two TIF areas were created so that any tax dollars coming from commercial property only can be used as a subsidy for redevelopment and infrastructure, and other community and improvement projects," he said.
Davis said if elected, she will be willing to listen before making a decision.
"If elected, I will investigate the needs of the town and help to make decisions based on those needs," she said.
Hexamer said he will continue the job he's done if he is re-elected.
"I will continue as I have from the day I became a council member to be honest and respectable to the citizens of Fortville and continue with transparency. I will be respecting and have open discussions with fellow council members and make sure each tax dollars is being responsibly budgeted," Hexamer said.