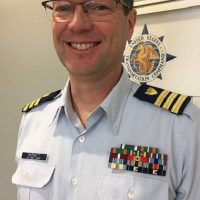 U.S. Coast Guard Lt. Cmdr. Turman "Zach" Barnett, a native of Greenfield, serving at U.S. Transportation Command (USTRANSCOM) Joint Reserve Unit, was frocked to the senior officer rank of Commander.
"Frocking" dates back to the days of sail in maritime services, and is the practice of ceremonially pinning on the rank that the officer has been selected for, prior to the announcement of the official date of rank. Wearing of the insignia of the promoted rank - and receipt of the corresponding military honors and courtesies - is often done when the member is billeted for and holds the responsibilities of the promoted-to rank.
USTRANSCOM located at Scott Air Force Base, Illinois, is a unified, functional combatant command which provides support to the nine other U.S. combatant commands, the military services, defense agencies and other government organizations. They conduct globally integrated mobility operations, leads the broader Joint Deployment and Distribution Enterprise, and provides enabling capabilities in order to project and sustain the Joint Force in support of national objectives.
Barnett currently lives in Phoenix, Arizona, and his family and parents reside in Greenfield.