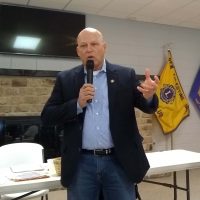 For the last two years, Indiana State Senator Mike Crider, R-Greenfield, has worked tirelessly to raise awareness of mental health woes facing students.  His work has paid off, as Crider's Senate Bill 266 passed the House of Representatives this week with no dissent and is headed to Governor Eric Holcomb's desk.
The measure will provide grants to school corporations for mental health services and student safety Initiatives.
Crider had previously said the desire to help was the result of school guidance counselors having to address the social and emotional needs of students in addition to their regular duties.  On Thursday, Crider told Giant FM that the funding details are still being ironed out but help is on the way.
"I am really pleased. This is the bill I fought the hardest for this session because I know how important the issue is," Crider said.
Crider said the bill is one that will have an immediate impact.
"The ability to help families as early as possible means that you start when the child is in school. This expansion of the grant program will provide schools with the ability to work with providers that service in conjunction with the parent's desire to seek help. This will be a great tool for both education and families. I hope and expect the grant program to be widely used," Crider said.