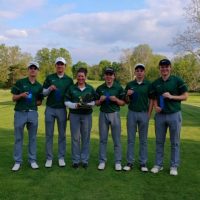 Golf
Triton Central captured the Indiana Crossroads Conference golf title Monday.
The Tigers recorded a low score of 334, five strokes better than second place Beech Grove.
Drew Rowen (76) finished second and Luke Sanders (82) 5th to make All-Conference.
Hauser 186, Morristown 196
Baseball
Shelbyville 11, Warren Central 3
Edinburgh 4, Waldron 3  (8 inn)
Eli Jones struck out 15. Nate Bernard has a double and Grant Gilles an RBI single to force extra innings.
New Palestine 6, Scecina 3
Trinity Lutheran 13, Southwestern 3
Tennis
Shelbyville 5, Rushville 0
Mt. Vernon 5, Anderson 0
Southwestern 4, Trinity Lutheran 1
Softball
Roncalli 9, Greenfield-Central 0
Hauser 16, Morristown 0
Edinburgh 19, Waldron 8