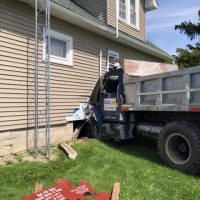 A dump truck crashed into a Bartholomew County farm house Tuesday.
Bartholomew County Sheriff's deputies were called to 10782 E 450 N in reference to a single axle dump truck that had crashed into the side of a 100-year-old farm house.  The farm is owned by Donald Burton.
The driver of the dump truck, Geoffrey Jones, 28, received minor injuries when, for an unknown reason, the truck he was driving ran off the roadway and struck the house.  It is believed that significant damage has been done to the foundation of the residence.  The owner of the dump truck is Edge Construction.
Columbus Township Fire and Clifford Fire Departments attempted to stabilize the home's foundation.  No one inside the residence was injured.