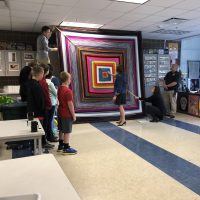 Four years ago, Terry Trowbridge began teaching art at McCordsville Elementary School, and that's when an idea began. Trowbridge started working on a God's Eye with his then second graders his first year.
"I show my students how to make them with just popsicle sticks and yarn. Over the course of those four years, I was always curious on how big we could make one," Trowbridge told Giant FM.
Cue the idea.
Could it be big enough for a Guinness World Record?
Was that even achievable?
For Trowbridge, he wanted to try.
"I think everybody probably has a dream of getting into the Guinness Book of World Records, so I went and checked the internet to see what the record was. I was expecting something as big as a football field or something, but it was only 11 feet and some change. That was doable. The second graders that I first taught were now fifth graders. I figured this would be a great send-off, a world record," he said.
However, he didn't tell his students right away.  Instead, Trowbridge made the x and got everything ready for the attempt, and then told his students.
"They were really excited when I told them, but also a little skeptical. Guinness was just a book they all knew was sold at our school book fair. For them to be in it was almost too much," he said.
Trowbridge said the whole process has taken about a year, and, the school has yet to hear if they achieved the attempt.
"By the end of the year, the kids would be reminded about it every time they came to art. Our God's Eye is so big that it's stuck on my room. I told them we should hear back over summer break. If we get the record, we will have those fifth graders come back to McCordsville Elementary to celebrate in the fall. My fingers are crossed," he said.
While the wait will be tough, Trowbridge told Giant FM the experience is something the kids can remember forever.
"You look at a Guinness Book of World Records and you are the most extreme examples of humanity, and that's not how most people see themselves. If we do get the record, it's not guaranteed to be in the book. We'll be on the website and get a certificate. So while the anticipation can be agonizing, the thrill of hope is like a kid the night before Christmas," Trowbridge said.
With that said, Trowbridge is trying to keep expectations realistic.
"I told them nothing is guaranteed, so while we might not get the record, I think it would be fun to attempt. By all manners of my understanding, we've made the world's largest God's Eye, but they could come back and say we didn't do something right. We might be able to fix the problem and reapply, we might not. This is all new to me, and I expressed this to all my students. I hope that they are its not only okay to try new things, but they should be looking for adventure," he said.
And Trowbridge wants his students to remember one piece of advice from the project.
"One thing I've always believed is that it's not about the destination, it's about the journey. I hope they look back at their time in elementary school and remember it fondly. If we get the record, it would be epic. To have one of those Guinness plaques would be a lifelong dream of mine, so I can only imagine what it would be like to a fifth grader," Trowbridge said.