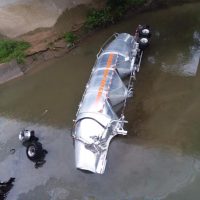 The Shelby County Swift Water Team, Squad 692, and Medic 692 aided in a case Saturday involving a semi that left the road and went down into the Flatrock River.
Multiple agencies responded to Decatur County on a mutual aid request with the St Paul VFD and the Greensburg Fire Department.  The semi truck left westbound I-74 at the 127 mile marker and went down an embankment into the river. The cause of the accident is unknown as of this report.
The crews were successful in extricating the patient and moving the patient to safety.
Crews remained on scene to assist Davis and TDS Wreckers on removal of the truck/trailer as well as placing hazmat socks across the river for the diesel and oil collection.
The Shelby County Swift Water team is composed of members of the Shelbyville Fire Department, Fairland Fire Department, and Shelby County Sheriff's Department.