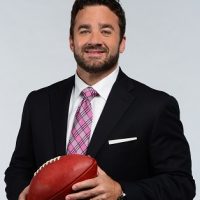 Jeff Saturday, six-time Pro Bowl center and Super Bowl champion for the Indianapolis Colts, will serve as the official chairperson for the 25th running of the Grade III $500,000 Indiana Derby set for Saturday, July 13. First post time for summer's biggest sporting event in Indiana is 5:30 p.m. Estimated post time for the Indiana Derby, presented by Miller Lite, is set for approximately 10 p.m.
A native of Atlanta, Ga., Saturday spent 13 of his 14 years in the NFL with the Indianapolis Colts and was a major part of the team's Super Bowl XLI win. He is a two-time All-Pro player and a member of the All-Decade Team. Saturday and Peyton Manning, playing as a center-quarterback duo, started in 172 games together, an NFL record. The graduate of University of North Carolina-Chapel Hill also appeared in six Pro Bowls and was inducted into the Colts Ring of Honor in 2015.
Saturday will provide a meet and greet from 7:30 until 8:30 p.m. on the racecourse apron during the Indiana Derby. He will also help present the trophy to the winner of the Indiana Derby, Indiana's richest horse race.
The Indiana Derby will celebrate it's 25th year in 2019. The race, which attracts some of the top three-year-olds in the nation, will be part of an evening offering more than $1.1 million in stakes purses. In addition to the action on the track, guests may sign up to win one of three $2,500 Megabets, a win wager on the horse of their choice in the Indiana Derby.
Indiana Derby Night will be televised live on WISH TV Channel 8 from 9 until just after 10 p.m. The show will cover the running of the Grade III $200,000 Indiana Oaks and the Grade III $500,000 Indiana Derby.
"We are excited to have local NFL sports hero Jeff Saturday join us for the silver anniversary of the Indiana Derby," said senior vice president and general manager Ron Baumann. "This is our biggest racing night of the year and having a superstar athlete like Jeff serve as the chairperson is such a boost to the entire evening."
Admission and parking to the Indiana Derby is free and the event is open to guests of all ages. Dining packages are available in both the clubhouse and Peruvian tent by calling (317) 421-0000. For more information on the Indiana Derby, go to the Website at www.indianagrand.com.