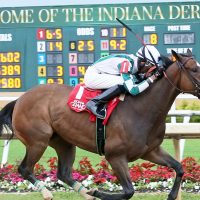 It was a big afternoon for Greenhill Racing as the stable swept both stakes races on the racing program Wednesday, June 19 at Indiana Grand. In addition to Toss of Fate's win in the $100,000 Hoosier Breeders Sophomore Stakes, Moves Like Magic came right back for the win in the 11th running of the $100,000 Hoosier Breeders Sophomore Fillies Stakes.
Under the guidance of jockey DeShawn Parker, Moves Like Magic wasted little time getting out of the gate from post one as the favorite of the nine-horse field. Discreet Beauty and Marcelino Pedroza broke sharply from post three and immediately posed a threat to Moves Like Magic, accompanying the filly on the outside all the way to the final turn. The duo had a strong hold on the top two spots throughout most of the one and one-sixteenth mile event as their opponents tried to gain ground through the sloppy track surface.
Heading into the lane, Moves Like Magic was not backing down. Fireball Baby and Gabriel Saez tried to close in late but could not overtake the top two. Moves Like Magic moved on out for the lead in solo fashion under the wire, winning by two lengths in a time of 1:46.02. Discreet Beauty was second over Fireball Baby.
"She (Moves Like Magic) was pretty game and I put her on the lead and let her do what she normally does," said Parker. "Jose (Cazares, Greenhill's assistant trainer) told me she had been training well, so I listened to that and her like they wanted me to, and she responded."
Moves Like Magic is now three for four in 2019, recording her fourth career win in six career starts for Trainer Jeff Greenhill and Sherri Greenhill's Greenhill Racing Stable. Prior to her last start, the homebred daughter of Maclean's Music was on a four-race win streak. She now has in excess of $140,000 in purse earnings.
"I knew she would get the lead but the mile and sixteenth was a question mark," said Greenhill. "DeShawn (Parker) did a good job with her. He kept milking her along. Every time they came to her, she went on. This has been a great day, and I got my picture taken twice."
Greenhill commented they will wait to see how she comes out of the race before deciding on her next start for 2019 at Indiana Grand.
Thoroughbred and Quarter Horse racing continues through Wednesday, Nov. 6. Racing is conducted Tuesday, Wednesday and Friday at 2:15 p.m. and Saturday at 6:15 p.m. More information about the season is available at www.indianagrand.com.