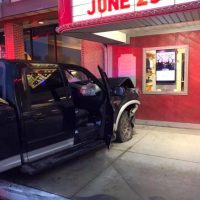 Shelbyville's Strand Theatre is assessing damage after being struck by a truck in a Wednesday night accident.
The Shelbyville Police Department reports Tammy Coffey, 48, of Shelbyville, was driving a 2001 Ford F-150 just after 9:00 pm.  Coffey told police she was stopped at the Broadway / Harrison Street intersection.  She turned south onto Harrison Street and the truck fishtailed on the west street.  Coffey was unable to regain control and crashed into The Strand, 215 South Harrison Street.
Coffey declined medical attention.
Airbags deployed in the accident. The truck was towed from the scene.
David Finkel spoke to GIANT fm about the accident and further assessment of the building's structure and safety concerns now before the theatre's board.