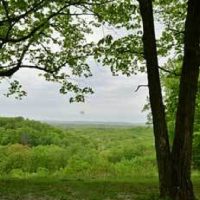 The campgrounds, cabins and Abe Martin Lodge were still closed today, Wednesday June 26, at Brown County State Park; day use park activities are now extended to Thursday. If water production capacity and water sampling continue successfully, the campground, cabin and lodge may reopen for Thursday night guests. A determination is expected Thursday morning and DNR will provide an update to park guests and media.
Day use facilities and services have been open since Monday this week for sight-seeing, fishing, picnicking, hiking on open trails, visiting the nature center, and guided horseback rides at the saddle barn. Gates are staffed, but no admission is charged. Vault toilets are open, and bottled water and packaged snacks are available at the Country Store near the campground. Mountain bike and horse trails remain closed. 
Abe Martin Lodge, pools, modern restrooms, and drinking fountains have been closed since Monday, June 17 due to the unprecedented amount of sediment that came into Ogle Lake along with torrential rains. Ogle Lake is the park's water supply. The sediment increased turbidity in the lake and impacted the water treatment facility's filters. 
A team of DNR and IDEM staff and consultants have been working around the clock to produce enough potable water to reopen the lodge and campground. Two mobile, pre-treatment units are now filtering the water before it reaches the park's treatment plant. Water production capacity has increased. Staff continue to flush water lines across the park, and the required water sampling is in process. 
Opportunities are still available for campers and inn guests who prefer to do so to transfer to other state park campgrounds or inns where availability exists.