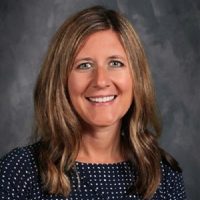 The Mt. Vernon Community School Corporation (MVCSC) has named Mrs. Alissa Lockwood as the new Mt. Comfort Elementary Principal. She will begin this new leadership tenure on July 1, 2019. Lockwood has most recently served as the Assistant Principal of McCordsville Elementary School for the last three years. In her first year she helped to raise the school's letter grade from a "D" to an "A," and most recently was named a Four Star School by the Indiana Department of Education.
Lockwood encompasses many leadership strengths to continue to lead Mt. Comfort Elementary on its continuous path of achieving excellence. Her interpersonal relationship skills and experience in building a dynamic and team-oriented culture were a leading factor in her selection.
MVCSC's Superintendent, Dr. Jack Parker, states, "Alissa's experience in building strong leadership teams and her drive in creating a successful school environment with the focus on the whole child made her an ideal candidate. She is a proven instructional leader with exceptional communication skills and is poised for this next leadership position. I have full confidence in her ability to continue to grow Mt. Comfort Elementary's achievements."
Prior to coming to becoming an Assistant Principal, Lockwood was the Title One Coordinator for Fortville Elementary from 2012 – 2016. She began her teaching tenure in 2005 as a first and second grade teacher at Fortville. Her accomplishments in each position demonstrate she is a data-driven decision maker with experience cultivating a high functioning team environment.
"I am honored to have the opportunity to lead Mt. Comfort Elementary. I believe in fostering a high level of learning for all students, and supporting our staff while we create that environment is a priority. My dedication to Mt. Comfort Elementary and commitment to strive for excellence will hopefully have a positive impact on every student and staff member, and the parents as well. I am really looking forward to getting to know the students, staff and families and continuing the success at Mt. Comfort Elementary!"
Lockwood has two Masters of Education degrees in Educational Administration and Supervision as well as an All Grade Reading Specialist License in Elementary Education; both are through Ball State University. She received her Bachelor's Degree in Elementary Education in 2004 from Purdue University.