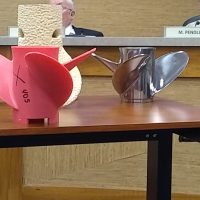 Yamaha is officially underway with construction of a new 54, 000 square foot facility in Greenfield following a groundbreaking ceremony.
Jonathon Burns, general manager of Yamaha Marine Precision Propellers Inc., talks about the company's desire to set up shop in Greenfield to meet the current demand and allow for future growth.
The building, at 1877 West New Road, will allow for growth and expansion.
Altogether, 200 new positions are expected between Yamaha's Indianapolis and new Greenfield location.
Production in Greenfield could start in the 2nd quarter of 2020.