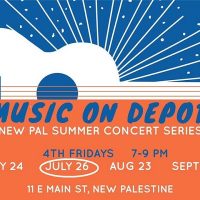 Fresh on the heels of a successful Summer Fest, officials in New Palestine have rolled out another initiative aimed at bringing people to the Hancock County town.
The fourth Friday of July, August and September will feature a concert on Depot Street next to the town's museum.  In addition to free musical acts, there will be beer and wine available for purchase.
Boogie Knights will play from 7-9 p.m. on July 26.
According to event organizer Kim Taylor, the aim is large crowds that could help draw new events to New Palestine.
The town of New Palestine is also working on ways to make the Depot Street more user friendly, installing gates to limit traffic.