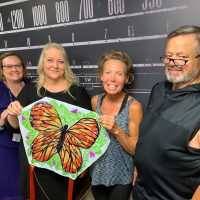 Come join us as we celebrate the Arts at Arts in the Park – a free arts festival event that provides wonderful opportunities to experience visual and performing arts through variety of interactive art activities including painting, music, crafts, puppeteers, and much more!   The Shelby County Arts in the Park event is an enjoyable experience for all ages – children and adults.
Art in the Park's Al Taylor, Dawn Adams, Janet Wallace and Kris Cox took A Trip With Penny Lane and shared the details about Arts in the Park 2019…click on the link below to listen.
The Shelby County Arts Fest will host the 7th annual Arts in the Park event on July 20, 2019, from 9:00 AM to 2:00 PM at Blue River Memorial Park, 725 Lee Blvd., in Shelbyville.  Please plan to join us for this free event that provides opportunities for people of all ages to experience the arts in a variety of ways. – Children participate in activities such as making puppets, painting, decorating and flying kites, origami, costumes, photo booth – and much more.
A variety of art classes for adults will be offered for a nominal fee.
Arts in the Park is a free event that offers a variety of opportunities for people of all ages to learn about, and enjoy, the arts.   We hope to have a well-attended event again this year and look forward to seeing everyone on July 20th!