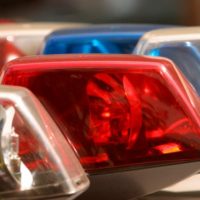 An Anderson man was hospitalized in critical condition after he was hit by a truck while riding a bicycle. The truck fled the accident scene.
Just before 10:30 am Friday the Hancock County Sheriff's Department was called to the area of 1233 East State Road 234.  Witnesses called 911 after they saw the bicyclist waving for help from the ditch.
Terry Huff, 67, of Anderson, was wearing his protective helmet and high-visibility reflective vest at the time of the crash.  The sheriff's department press release notes the helmet likely prevented him from dying at the scene.  He was transported by air ambulance to Methodist Hospital.
Evidence at the scene indicates Huff was riding with traffic near the white fog line when he was struck from behind.
Evidence was found at the scene from the suspect vehicle. Investigators believe the suspect vehicle is a white or black, 2017 or newer, Ford F-250 or larger truck with extended tow mirrors.  The truck will have extensive damage to the passenger side headlight assembly and mirror.
Investigators are reviewing security camera footage from neighbors and will update the vehicle description if they find more evidence.
Anyone with any information is asked to call the HCSD Investigations at (317) 477-1199.