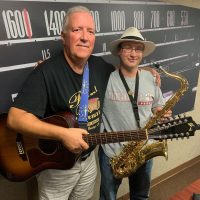 Crossroads of America Songfarmer's will be on Monday, July, 29th 7pm at St. Mark Lutheran Church.  The theme will be  "Dessert's For Don" you can bring a dessert in memory of Songfarmer Don Ford. Also, a reminder that they have invited Bill Bailey from Indiana State Fair Pioneer Village, the  song challenge is to write a fair song (county or state) this is  open  for anyone who would like to write something for Don.
Hope to see ya at Songfarmer's gathering!
Click on the link below to listen to Songfarmers' Buck Rogers and Erich Davies taking A Trip With Penny Lane on GIANT FM REAL RADIO sharing their passion for music, songwriting and details for Somgfarmers monthly gathering and music.