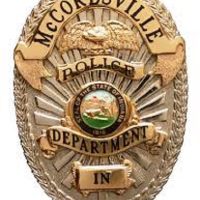 There's a new chief in town.
After a rocky seven months, the town of McCordsville has its second ever police chief as Paul Casey was selected by the McCordsville Metropolitan Board of Police Commissioners. Casey will take over as chief August 1 and there is a public swearing in slated for Aug. 19.
Casey has been recently serving as interim chief since the retirement of former chief Harold Rodgers.
Mark Walker, president of the Board of Metropolitan Police Commissioners, said the board felt Casey was the best candidate.
"His fresh, new ideas, initiatives and officer buy-in were all determining factors. The department had been in a fragile state since Chief Rodgers' departure, and interim chief Casey weathered the storm and brought the department through, and we are now poised for rapid growth both in the town and police department," Walker told Giant FM.
Walker said he felt Casey brought stability and he doesn't expect the step back that could have occurred by bringing in someone from outside the department.
"In addition, Chief Casey has extensive experience in departmental budgeting and has done big things with little resources. Chief Casey also received a glowing letter of commendation from the McCordsville Town Council," Walker said.