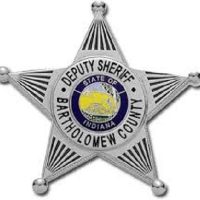 After warning motorists not to pass stopped school buses, Bartholomew County Sheriff's deputies turned out in force to find violators.
As hundreds of Bartholomew County kids returned to school on August 7, the Sheriff's Office extended their operation to crackdown on drivers who illegally passed school buses and made other violations that put our children in danger.
On August 7, 8 and 9, deputies were assigned to patrol Bartholomew County schools. During these three days BCSO units were very visible as kids, parents and teachers got a good start to the school year.
Deputies patrolled before, during and immediately after school hours.  In addition to two BCSO School Resource Officers (SROs), deputies:
Were aboard 5 school buses
Conducted 28 school patrols
Made 16 traffic stops that ranged from school bus stop arm violations to speeding
"We had deputies riding school buses and following school buses looking for violations", said Bartholomew County Sheriff Matthew A. Myers.  "BCSO will continue to make traffic enforcement and visibility a priority throughout the school year."