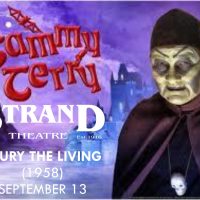 Don't miss Sammy Terry Lives Forever at the Strand Theatre!
Brought to Life (or rather Death) in 1962 by Robert Carter, Sammy Terry – say it fast! – has been haunting the TV airwaves of Indiana for decades. Countless families remember spending their Friday nights watching Nightmare Theater, hosted by Sammy Terry.
Even though the local weekly TV program ended in 1989, generations of Hoosiers still wake with a start, hearing the creak of the coffin and that sinister, pale-faced ghoul's ominous laugh in their nightmares. Today, Sammy Terry continues to lurk in the deep, dark recesses of our minds, ready to scare and delight fans old and new since in 2010, Robert passed his cape down to his son, Mark Carter.
Sammy Terry will be appearing on stage at the Strand Theatre in Shelbyville after an almost 50 year absence. He will be hosting the Friday the 13th edition of the film series FRIDAY NIGHT FRIGHTS.
The evening continues with I BURY THE LIVING (1958).
This is part of the Friday Night Frights Film Series at the Strand Theatre – Shelbyville, Indiana
Click on the link below to listen to Sammy Terry taking A Trip With Penny Lane on GIANT FM